Dojo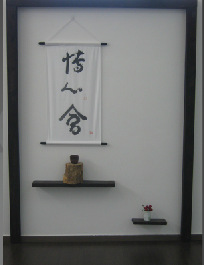 The Aikido school is a member of the Hellenic Aikido Partnership (HAP), a team that schooled under the guidance of shihan Urban Aldenklint (7th dan Aikikai). Through this, the school is affiliated with the cycle training shihan Yasuo Kobayashi (8th dan Aikikai).
The HAP group is also supported by shihan Kazuo Igarashi (7th dan Aikikai). and shihan Petteri Silenius (6th dan Aikikai).
The Iaido school is trained under the guidance of sensei Norio Furuichi (8th dan Iaido) Master of the Iaido Tokai University team. Norio Furuichi is President of Shō Shi Kai Budo Juku.
Furthermore, the Aikido School is under the auspices of EFEOZZ (Greek Amateur Fan Jiu-Jitsu Federation), whereas Iaido school is member of EOKIN (Greek Federation Kento Iaido Naginata).
Dojo Etiquette
The way we behave in the dojo is specific. The useful guidelines and rules applied in daily dojo operation but also in seminars, contribute to the harmonious operation of the dojo and safe trainning of students.
Be consistent, do not make the class to wait
Fingernails and toenails should be trimmed and all jewelry should be removed (before class)
Remove your shoes before the entrance in the dojo. Move straight in to the dojo and do not obstruct the entrance or exit of the dojo
Food, beverages and tobacco is not allowed in the dojo
The floor should be cleaned and dried. Leave the dojo ready for those who will train after you
Thank and bow to each other before and after each exercise. In this way, we remind each other and ourselves on our positive intentions
Trainee Behaviour
Stop and bow in Shinzen, when entering and exiting the tatami
Be respectful of exercise equipment. The uniform must be clean and in good condition and weapons neatly placed when not in use
We never stand upright on the tatami unless we practice. If necessary, sit seiza and wait your turn
Speak as little as possible on the tatami
Inform the teacher of any injuries or problems, or if you must leave before the end of the course
Do not you leave without permission
Do not talk when the teacher is talking
Respect other students
Do not do anything that may distract or injure someone, a fellow practitioners or a viewer
Always remember that reishiki comes from the heart and that without sincere respect will just be empty gestures
It is customary, at the beginning of the course to use a greeting, saying «Onegai shimasu» (good workout) and at the end «Domo Arigato gozaimashita» (thanks)
For Iaido

The sword should be untied and be held in the right hand
Do not draw or show the sword to Shinzen
Before exercising, make sure your sword is the right size
Check Mekugi. Put it in Shimoza (opposite side of the room from shinzen) with ha facing the wall
Never touch the sword without the owner's permission
Do not draw your sword directly on others
Do you kick or pass over any sword
Guidelines for Exercise
Always treat instructors and classmates with courtesy and respect
Always control your actions and emotions
Practice your skills as often as possible
Take constructive criticism with an open mind
Respect other trainee (aikidoka / iaidoka)
Never be arrogant about what you know. Do not ever think that you know everything about something
Never say "I can not". Have a positive attitude
Remember that all techniques are ultimately self taught
Always look within yourself and try to improve yourself